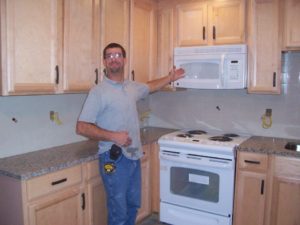 Mike Kelsey has worked in the construction trade continuously since graduating from trade school in 1983. He moved to RI in 2004 and went to work with one of the big remodeling companies. Mike founded Kelsey's Exteriors in 2007 with the intent to treat customers with the respect they deserve.
As an owner-operated business, all work is done by Mike himself — from estimating, to selling, to putting that finishing touch on your home improvement project. With no high pressure sales force or office staff, Mike's overhead is low, which keeps costs down. That translates to savings for our customers.
Kelsey's Exteriors specializes in wood and vinyl siding, having been recognized  by CertainTeed as a master craftsman.
Vinyl siding has come a long way since the 1980's, available in a variety of styles thicknesses and colors. Some manufacturers will even create custom colors to make your house stand out and be one of a kind.
Use our Contact Us page to tell us what we're doing right or what we can improve on.